A STOOL FOR WORK ON PAPER
Margarita Paulos' chromatic work on the Oddvar stool by IKEA sets out, among other intentions, to bring interest up to date on the suggestions by Gerrit Rietveld regarding what is known as a good design. Paulos has transferred the colours of the Red Blue Chair, to this stool, the chair being the most well known work by the Dutch architect, the result being a polyvalent work with patently leisure-orientated suggestions. It is also an invitation to become more acquainted with and to reflect on Rietveld's production between 1930 and 1940. Paulos' work is called Oddvar Red&Blue, taking on the Dutch artist's innovative criteria that led to a wide range of furniture, some of which are in recycled wood to be assembled by the consumer.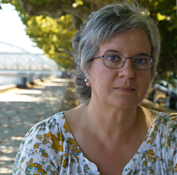 Margarita Paulos
Margarita Paulos, a designer, works and researches in the field of visual communication, is a biologist, art collector and amateur nature observer. In the 1980's and 1990's, she designed furnishing programmes in untreated wood, which were distributed in parts for assembly. After a long period in which her activity was focused on publishing design, she collaborates with artists and scientists, as well as with private bodies and the public administration. For about a year now, she heads the on line Obra sobre Papel.
gallery.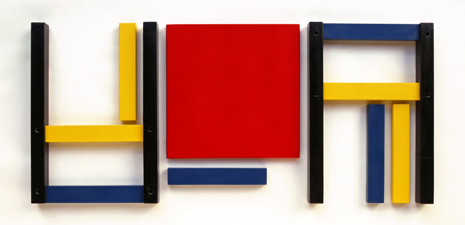 The Oddvar Red&Blue takes the polychroming from the Red Blue Chair in turn, is inspired on the combination of red, blue, black and yellow used by Piet Mondrian in his abstract compositions. Thus a certain complicity is set up between a piece that is currently published by the firm Cassina, and which is also displayed in the collection at the New York Museum of Modern Art, with a simple, elegant anonymous design by IKEA, produced by Paulos. The stool will be included in the Obra sobre Papel (Work on Paper) on line gallery collections, before the year-end, since this is a prototype, made in the summer of 2013.