MUSIC HALL, DRAWINGS BY KINROCS PUBLISHED BY WORK ON PAPER
Music Hall is the title of a set of six digitally created drawings by painter and architect Hugo Scornik Gerstein (Buenos Aires, 1938), edited by on line gallery Obra sobre Papel (Work on Paper). The collection container has been designed by Margarita Paulos, with graphic elements of postal iconography. Music Hall is the first of the thematic folders which OSP will present during 2014 with drawings of the argentine author. Kinrocs, Scornik's alias, has developped in this instance a set of images related to the dance, a series of different representations of the human figure in movement, realized with elegant dexterity and irony. His characters, full of plastic singularity, transmit attitudes and musical genres in different visual languages, but with equal internal dynamism. The chromatic palette, another digital identifier, is also used to define the characters on a full background, which helps to produce the coreographic athmosphere of the images.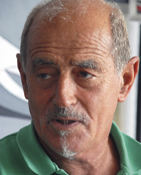 Kinrocs
Scornik, painter, architect and traveller
Kinrocs, Hugo Scornik's artistic alias, has been continually showing his production since the 60's. Buenos Aires, San Francisco and Las Palmas de Gran Canaria are some of the cities where this author of argentinian origin has lived and worked in architecture and painting; two of his mentors were Luis Seoane and the scultptress Noemi Gerstein. In 2011 he started producing digital art series and in the fall of 2013 he collaborated with Obra sobre Papel, to publish this work as folders. Scornik shows, both in his paintings and his drawings, a refined ability to construct visual languages and develop esthetic propositions. Since 1999 he lives in Las Palmas, on the Gran Canaria island, a place this artist had invested in previous stages of his life.