VÍTOR MEJUTO EXHIBITS HIS LATEST PRODUCTION IN GALICIA
The Municipal Exhibition Room in Vilagarcía de Arousa, Pontevedra, is the venue, from 17th March, in Rúa da Torre, 39, for an exhibition by Vítor Mejuto (Barcelona, 1969). This exhibition clearly puts across the creative vitality and development that his geometric abstraction has gone through over the past few years. This author began his collaboration with the WorkOnPaper, virtual art gallery back in 2014, with The Lost Syllabary, a collection of drawings that he had exhibited in 2013 at the Schema Projects Gallery in New York. On this occasion, the Encyclopaedic Treaty of Tailoring, and other works, are exhibited in Vilagarcía, this being another series –in this case, of paintings– sharing with The Lost Syllabary the plastic value of being organized as a language.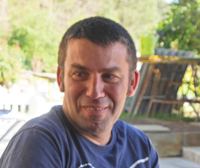 Vítor Mejuto.
A work in collaboration
The process of making this catalogue and other graphic communication, exhibited at Rúa da Torre, 39 involved the collaboration of Margarita Paulos Rey and Jorge García, at WorkOnPaper, art publications. As on previous occasions, Vítor Mejuto commissioned Paulos with the title, catalogue, poster and vertical banner, and the presentation text with Jorge García, who was also the exhibition curator.
The front cover of the catalogue and the vertical banner feature a photograph of inside the author's studio in A Coruña, while the series of paintings from the Encyclopaedic Treaty of Tailoring is published on the poster.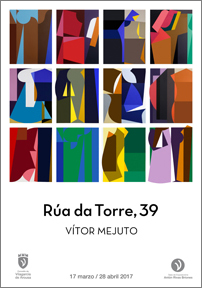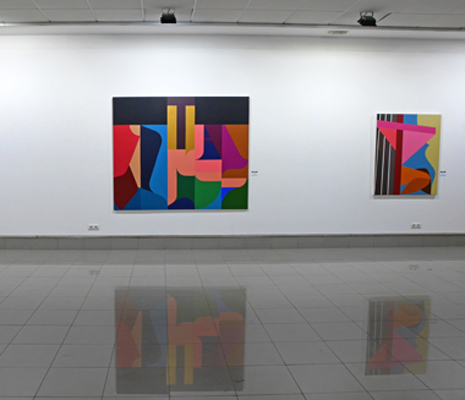 To the left, Descendemento (Rogier van der Weyden). To the right, La caída de Ícaro (Jacob Peeter Gowy).
Over the past few years, Mejuto has exhibited in institutional spaces and private rooms in Santiago de Compostela, A Coruña, Vigo, Pamplona and Madrid. He has also exhibited in galleries in Paris, Büdingen (Germany) and New York, specializing in abstraction. With this on-going activity in production and exhibitions, he has achieved a high degree of recognition among the public and critics. Rúa da Torre, 39 is the address of Mejuto's studio flat in A Coruña, where the works on display in Vilagarcía were painted, based on an invitation by the Town Council. The author's relationship with this town and its people was built up over the fifteen years of his living and working there. The exhibition is open until 28th April.