OBRA SOBRE PAPEL PRESENTS "RENACENTISTAS" IN A LIMITED EDITION
Obra Sobre Papel offers a new graphic product: a selection of four illustrations and a triptych from the Renacentistas collection presented by Irene Saslavsky in this virtual gallery, in April 2013. The print run was 150 numbered copies contained in an art mail envelope designed by Margarita Paulos. In this collection, Saslavsky offers a personal, ironic reinterpretation of the plastic values with which Renaissance painters represented the men and women of the ruling class.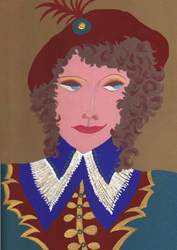 Self-portrait
A unique artist
Irene Saslavsky (Buenos Aires, 1938) is a textile designer with academic training. She has designed fashion and furnishing textiles, and produced personal works that she has occasionally exhibited. Her professional life has taken place in Buenos Aires, London and Barcelona, where she lives since 1977. Her artistic production is characterized by the assured style with which she creates imaginative representational and abstract images. A basilica in a well-known square, fantastic creatures from a Pink Floyd concert or enigmatic portraits are just some of her pictorial subjects. Her abstract works show a clear constructivist tendency and her drawings and colouring are refined and mature.