ART AS A GAME
Planisfera is the name given to a tabletop toy designed by Margarita Paulos and published by the on-line gallery, Obra Sobre Papel (Work on Paper). In this object, two semi-circles presented perpendicularly and joined at their geometric centre suggest a virtual sphere. The parts are made in pinewood with applications in vinyl Planisfera manages to convey a playful, chromatic dynamism when set to spin. The graphic identity of this piece, which has been made with graphics inspired in Art Deco, collaborates in creating an illusion: the absent sphere. Paulos has developed this project with a personal methodology, an object with an iconic presence. As in the case of the Oddvar Red&Blue, a chromatic intervention on an IKEA stool, the designer proposes a complicity between this new work and the theoretical and aesthetic tradition of abstract art of the first half of the 20th century.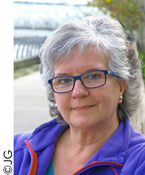 Margarita Paulos
Communicating objects
The designer, Margarita Paulos, is a biologist, art collector and amateur nature watcher. She works in graphic communication and online for the publishing industry, institutions, artists, scientists and software developers. She is also an artistic director and publishing direction at Work on Paper.
The Planisfera toy is her second contribution to the gallery archives, following on from that of Oddvar Red&Blue, a playful, chromatic intervention on an Ikea stool.
In both objects, Paulos is intended to generate a certain complicity with particular artistic aesthetic of the twentieth century.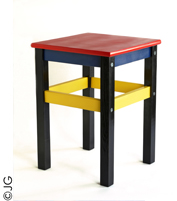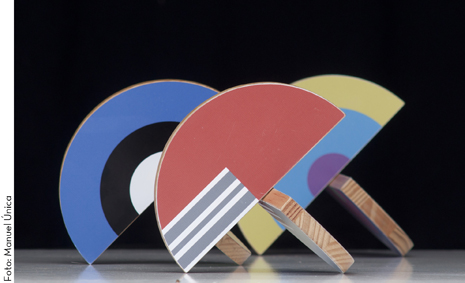 The Planisfera's DNA incorporates the armillary sphere, a time-honoured navigational instrument believed to have been created by a Greek astronomer. A piece of mechanical watchmaking was another of the inspirations. Having enjoyed the concrete art of Max Bill (Winterthur, 1908 – Berlin, 1994) and becoming acquainted with some of the thoughts and works of Jorge Oteiza (Orío, Giupúzcoa, Spain, 1908 – San Sebastian, 2003), has been highly motivating for Paulos. Finally, the experimental work of the restorer, Luis Antón Avila (Guadalajara, 1957), and his prototypes in wood and brass, turned out to be a revealing, generous contribution when it came to designing this playful object.